Best hotels with 24-hour front desk in Khao Yai (Cha-am)
Our top picks
Lowest price first
Nearest to
Best reviewed
See all
Juntima Boutique Hotel
Khao Yai (Cha-am),Khao Yai (Cha-am) - View on map
"was a great stay here. fasility and price was excellent. just a little bit hard to get food around but you xan get food in the hotel, quite good. very recommended. when I back to cha am, will definetely stat here again.."
Show more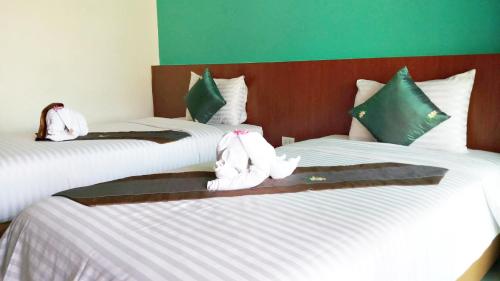 See all
P' Private Resort Cha Am
Khao Yai (Cha-am),Khao Yai (Cha-am) - View on map
"Our stay at Private Boutique Park Resort was an excellent break from work. We stayed in a swimming pool front villa on the first floor and the view was splendid! We are three in a group who shared one room but it was spacious. We got two single bed and we request for another matress which cost 500 thai baht. Pros: 1. The resort is along the high way and very near on the main attractions in Cha-am like Santorini Park and Swiss Farm. 2. Free buffet breakfast!! :) 3. Terrific staff ! They are very helpful and accommodating. 4. There are a lot of convenient stores, restaurants and even gasoline stations in the area. 5. They provide clean towels, blankets and free water. Cons: 1. The only problem we encouter is looking for the exact location of the resort. If you are travelling by minivan in Morchit Station they will drop you off in Cha-am which is near by the beach. And the resort is far from that.. But overall, it was indeed an excellent place to stay. <3"
Show more
See all
Phet Cha-am Plaza&Resort
Khao Yai (Cha-am),Khao Yai (Cha-am) - View on map
"Very nice hotel, good and caring service. But too far from city, beaches and all other locations. It is good for take a rest during your long trip to (or from) southern provinces but not as good if you just want to stay in Cha-am. Food is not very tasty. But anyway it is quite good for it's low price."
Show more
See all
Santorini Park Stay
Khao Yai (Cha-am),Khao Yai (Cha-am) - View on map
"We booked superior king room as gift for our newly weds best friend. We seek them for special arrangement on the honeymoon decoration which the able to deliver it. And our friend is very happy with it. You can get free Entrance for the Santorini Park however all rides / games inside the park need to pay but have discounts for hotel guest just show your keycard. Don't expect a breakfast like a king as they only provided light breakfast such as pancake, sausages, scrambled egg and bread. At night as the park closed you need to alert for the hotel entrance as it is dark. Currently the waterpark is closed for maintenance. Although the concept is Santorini but it is not situated near beach area. You need to drive to Cha-Am beach if you would like to be in the beach area. There are shuttles service to Hua Hin Night Market & Cicada Market. For the locations you need transport to go anywhere you want. The only thing you can do by staying here is taking photos, using the game room, cycling room, there are common room (like kitchen with microwave), playroom for kids. We can consider for our next stay if we wish to stay at the hotel lying in the room watching TV and do nothing. There is no swimming pool at this hotel. The room is clean the bathroom also clean. Overall is good & nice."
Show more
See all
See all
Discover the neighborhoods of Khao Yai (Cha-am)
---