11 best hotels in Saracen Bay
Our top picks
Lowest price first
Nearest to
Best reviewed
Where to stay in Saracen Bay
---
4-star hotels in Saracen Bay
---
We stayed here for 2 nights. We have a wonderful time here. Excellent resort & interesting room . The room is spacious and clean ,air conditioning , fan , plenty of in house movies to choose from, as there isn't any TV channel. The room will gets bright by early morning around 0550, so don't forget to bring your eye-shades. Breakfast was good with either Internatimal ...
---
We stayed in unit 16 and we were happily satisfied with the location. About half way back in the complex and quiet in the evenings. AC worked well. Has a few very short power cuts-nothing more than a few minutes. The staff clean the beach from every day and the area immediately in front of the resort was clean and great swimming. Food was great here. We ate at ot...
---
Very comfortable and quiet facilities, a limited number of bungalow which guarantees not too many noises. The location is fine, far from the bar with loud music. Saracen Bay is very clean and nice, the view is amazing. The pool was under repair, which was a very bad surprise, but the staff made tremendous efforts to compensate that. The team is very attentive to ...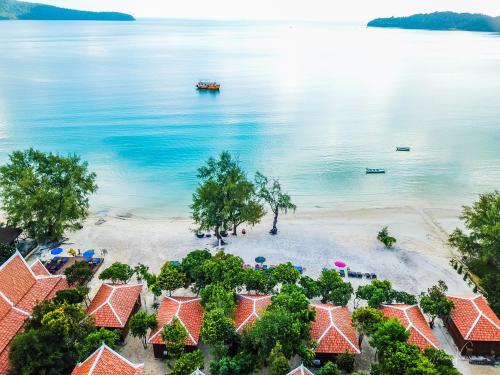 ---
The resort is perfectly located. The Saracen Bay is beatufull and the bungalows are located probably in the best place on the bay. The beach is silent and clean - the sea is clean and warm. The bungalows are nice, spacious and clean – equipped with well working aircondition and internet (sometimes slow). The only missing are: frdge, safety box and hairdryer. There are ...
---
Holiday mood spoiled as resort failed to pick us up from the Saracen Bay Left Pier due to reason we couldn't believe (said sent boat man to the wrong pier despite our mentioned of the Ferry company with stated arrival time in our 3 repeated mails before arrival). We ended up looking for a Boat Taxi ourselves and paid USD15 to get to the resort. If not, we would have...
---
We had a very pleasant stay, thanks to the incredible views and relaxed atmosphere but most of all the wonderful staff that soon became friends. They make you feel part of the family and your stay unforgettable. I didn't like their no-outside-food policy and in the welcome mail they send after booking they threaten with a $100 penalty if you don't comply, which is...
---
More about Saracen Bay
Discover Saracen Bay: A Hidden Gem in Koh Rong Sanloem, Cambodia
Saracen Bay is a small, picturesque bay located on the island of Koh Rong Sanloem, Cambodia. This hidden gem is a paradise for travelers looking for a peaceful retreat away from the hustle and bustle of city life. The bay is known for its crystal-clear waters, white sandy beaches, and stunning sunsets. It is a popular destination for backpackers, couples, and families who want to enjoy a relaxing vacation in a tropical paradise.
Top Reasons to Visit Saracen Bay: A Paradise for Beach Lovers
Saracen Bay is a paradise for beach lovers. The bay boasts some of the most beautiful beaches in Cambodia, where visitors can relax, swim, and soak up the sun. The water is crystal clear, and the sand is soft and white. The bay is also home to a variety of marine life, making it a popular spot for snorkeling and diving. Aside from the beaches, Saracen Bay is also known for its stunning sunsets. Visitors can watch the sun dip below the horizon while sipping on a refreshing cocktail or enjoying a romantic dinner on the beach.
How to Get to Saracen Bay: Your Ultimate Guide
To get to Saracen Bay, visitors must first travel to the town of Sihanoukville, which is the gateway to the islands. From there, visitors can take a ferry to Koh Rong Sanloem. The journey takes around 45 minutes to 1 hour, depending on the ferry company and the weather conditions. Once on the island, visitors can take a taxi boat to Saracen Bay. The boat ride takes around 10 to 15 minutes and costs around $5 to $10, depending on the number of passengers and the time of day.
Things to Do in Saracen Bay: Beach Activities and Beyond
Saracen Bay is a paradise for beach activities. Visitors can swim, sunbathe, and play beach volleyball on the soft, white sand. The bay is also a popular spot for snorkeling and diving, with a variety of marine life to discover. Aside from the beaches, visitors can also explore the island's lush jungle and trek to the top of the island's highest peak, where they can enjoy panoramic views of the bay and the surrounding islands. Visitors can also take a boat tour around the island, where they can discover hidden coves, secluded beaches, and local fishing villages.
Book Your Saracen Bay Hotel with Agoda: Enjoy Hassle-Free Travel Planning
Agoda.com offers a wide range of hotels in Saracen Bay, from budget-friendly guesthouses to luxurious beach resorts. Visitors can choose from a variety of accommodation options that suit their needs and budget. Booking a hotel with Agoda.com is easy and hassle-free. Visitors can search for hotels based on their preferred location, price range, and amenities. They can also read reviews from other travelers to help them make an informed decision.
The Best Time to Visit Saracen Bay: A Seasonal Guide
The best time to visit Saracen Bay is from November to April, during the dry season. The weather is sunny and warm, with little to no rain. This is the perfect time to enjoy the beaches and explore the island's natural beauty. The rainy season, which runs from May to October, can be unpredictable, with heavy rain and strong winds. However, this is also the time when the island is at its greenest, with lush vegetation and fewer tourists.
Travel Tips for Saracen Bay: Make the Most of Your Trip
To make the most of your trip to Saracen Bay, it's important to pack light and bring plenty of sunscreen, insect repellent, and a hat. Visitors should also bring a waterproof bag to protect their belongings during boat rides. It's also important to respect the local culture and traditions. Visitors should dress modestly when visiting local villages and temples and avoid taking photos without permission. Finally, visitors should be prepared for the island's limited infrastructure. There are no ATMs or banks on the island, so visitors should bring enough cash to cover their expenses. The island also has limited electricity, so visitors should be prepared for occasional power outages.
Where to Stay in Saracen Bay: A Guide to Accommodations
Saracen Bay offers a variety of accommodations to suit every budget and preference. Visitors can choose from budget-friendly guesthouses, mid-range hotels, and luxurious beach resorts. The One Resort is a popular choice for visitors looking for a luxurious beach resort. The resort offers spacious rooms with stunning sea views, a private beach, and a swimming pool. Paradise Villas Koh Rong Sanloem is a great choice for visitors looking for a mid-range hotel. The hotel offers comfortable rooms with sea views, a restaurant, and a private beach. Sol Beach Resort is a budget-friendly option for visitors looking for a comfortable and affordable stay. The resort offers simple rooms, a restaurant, and a private beach. Sweet Dreams Samloem Hotel is a popular choice for backpackers and budget travelers. The hotel offers basic rooms, a restaurant, and a communal lounge area. Sara Resort is a great choice for visitors looking for a secluded and peaceful stay. The resort offers bungalows with sea views, a private beach, and a restaurant.
Savor the Flavors of Saracen Bay: Must-Try Local Dishes
Saracen Bay is a great place to sample local Cambodian cuisine. Visitors can try dishes such as fish amok, a traditional Cambodian dish made with fish and coconut milk, and lok lak, a stir-fried beef dish served with rice and vegetables. Visitors can also try fresh seafood, such as grilled squid and prawns, which are caught daily by local fishermen.
Getting Around Saracen Bay: Transportation Options
The best way to get around Saracen Bay is by foot, as the bay is small and easily walkable. Visitors can also rent bicycles or motorbikes to explore the island's interior and visit local villages. Taxis and tuk-tuks are also available for hire, although they can be expensive. Boat tours are also a great way to explore the island's coastline and discover hidden beaches and coves.